An Overwatch 2 John Cena collaboration looks more likely than ever right now, as the professional wrestler turned actor shares a cryptic post to his Instagram page amid rife speculation about an upcoming Overwatch 2 character. As we head towards the Overwatch 2 season 6 release date, many streams of the Blizzard FPS game have been interrupted by a mysterious figure 'hacking' into their broadcast to tease the Overwatch 2 Invasion update.
The 'hack' shows a mysterious hooded figure, who seems to go by the name Enigma. As players have begun to pick apart the various details that have shown up, they all point in one direction: WWE superstar John Cena, also known for his roles in movies including Bumblebee, Trainwreck, and the Fast and Furious series.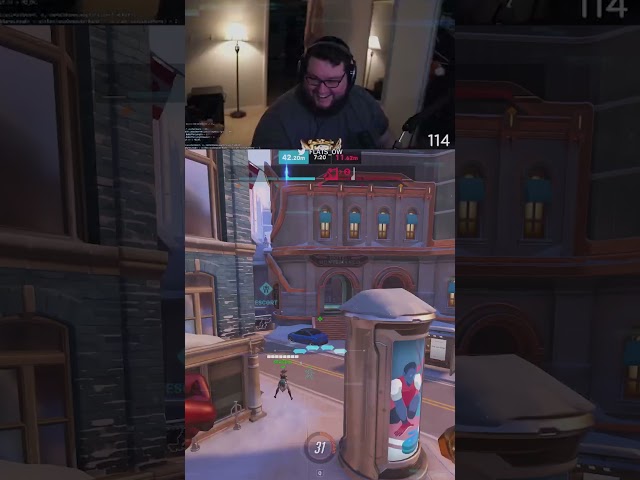 HTML-style code seen on the stream of Nathan 'KarQ' Chan and shared by Reddit user Umarrii includes the font family 'Felix-Antony' (Cena's two middle names), a shortened URL that links to an image simply reading 'JC,' and the color code '#042377' – which translates simply to April 23, 1977, the day Cena was born.
Of course, while speculation is running wild, there's been no official confirmation from Blizzard as yet. However, as the prophecies foretold, "The Champ is here:" Cena himself has now delivered a very up-front tease via his own Instagram account.
With no additional comment, Cena shares a seemingly random image of Overwatch being played. Given his propensity for very bizarre and off-the-wall posts on the social media platform, it might be easy to write this off under normal circumstances as Cena just being Cena, but this time he leaves a clear paper trail to follow.
The screenshot is actually a link to an official 'Overwatch 2 dev hang' on Blizzard's channel, with a specific timestamp to 1:12:05 mark. Jump to that moment in the stream, and you'll hear Overwatch 2 developers are talking to several big streamers about some of the crossovers and collaborations they'd love to see in the game.
The pieces seem to all be right there – suggesting, in the most likely case, that Cena will be providing the voice for mysterious hacker Enigma in the upcoming story content. Who better for an ominous, behind the scenes mastermind than mister "You can't see me," after all? Of course, with nothing yet officially confirmed and Cena's own love of winding up his fans, it's worth keeping a grain of salt to hand for now.
Until we have more official news, take a look through our Overwatch 2 tier list and we guarantee you'll Never Give Up in your ranked games again. You also won't want to miss our interview with Overwatch 2's Mercy actor Lucie Pohl, where she shares what the iconic character means to her.
Header image of John Cena provided by James Selesnick and edited for use under Creative Commons 2.0 license.